ABOUT THE BRAND
Hi, I'm Carly...
I am so so excited to share this collection with you! The Blonde Collection was a perfect fit for my first merch launch because blonde is so much more than a hair color, it's a feeling and a state of mind! I've been a hairstylist for over 16 years in sunny San Diego. During that time, I have had the pleasure of not only helping clients look and feel their best by creating custom hair color and cuts for them, but I've also been lucky enough to help my fellow stylists perfect their craft and feel more confident behind the chair through my education platform, Blonde Chronicles University.
Thank you so much for being here with me and supporting me! I can't wait to see you rocking your Blonde Chronicles Apparel goodies!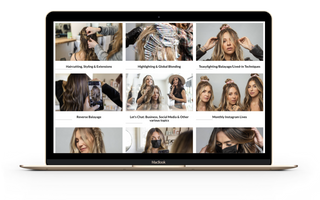 blonde chronicles university
Learn With Carly
Boost Your Confidence Behind the Chair
An entire library with well over 90 video tutorials that you can easily access at any time.